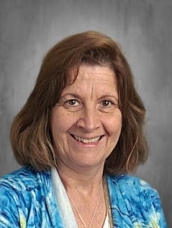 Art Specialist and Librarian
What do you love most about your work at St. Charles?
I love seeing what the children create. Their imagination consistently amazes me. Watching them grow in ability and confidence is wonderful. Teaching all the grades has allowed me to get to know all the students, which is truly a blessing.
How does our faith-based environment affects what you accomplish with kids?
Being part of the St. Charles community allows me to share my love of God with my students. I can incorporate our faith into my teaching.
Share a bit about yourself.
I live in Fridley, Minnesota, with my husband and five children. We have two dogs, one cat, and two guinea pigs. Not only have our children attended St. Charles school, but so did I. I am proud to be a St. Charles Charger for life.