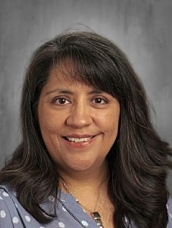 Spanish Teacher
What do you love most about your work at St. Charles?
I love teaching students! I truly believe this is what God called me to do in addition to the other roles I have in my life. I enjoy the "A-HA" moment when a student understands a concept. The team at St. Charles is also amazing. I love that I have known many of the staff for years as a St. Charles parishioner before embarking on my teaching journey. Many of the staff have been my friends since moving to Minnesota 22 years ago.
How does our faith-based environment affect what you accomplish with kids?
I have taught at other schools and no place compares to working in a faith-based environment. My faith is central to my life; so I can openly teach and talk about my faith with my students. I like to weave the truth about who we are into my lessons. I also enjoy challenging students to live up to their full potential as a learner and image of God.
Share a bit about yourself.
I am married to Paul and we have been blessed with 9 children: 8 living and 1 in Heaven. All of our kids have been at St. Charles either for sports or as students. I graduated from the University of Dallas with a BS in Biology and am completing a Masters in Teaching from St. Mary's University of Minnesota – Twin Cities. I am also bilingual in Spanish and English and am a native Texan. I enjoy knitting, sewing, cooking, reading, traveling, and spending time with my family. I also have had many pets over the years that I love to talk about. This year I am teaching 5th and 6th graders, helping our ELL students, and am an Internal Coach for our Reading Corps program.