Online Spirit Wear Store open Nov. 14 through Nov. 26!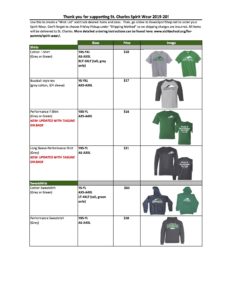 The St. Charles online Spirit Wear Shop is open November 14-26, and features a new Chargers shirt. Check out the limited edition shirt featuring the new School and Church theme, "The Way, The Truth & The Life"! Winter hats and beanies are also a great gift for the cold weather. Orders will arrive before Christmas break (if yours is a Christmas present and should not be sent home with your student, make a note in the comment section on the ordering website). 
Online instructions for ordering Spirit Wear:
Navigate to our Online St. Charles Spirit Wear Store!
Set up an account by selecting the My Account link from the top of the page, clicking the red Create Account button and completing all required information (e.g., email, password, address). Note: This account will be used each time you place an order with Dave's.
Select St. Charles Spirit Wear from the Associations drop-down.
View the available items on the main St. Charles Spirit Wear page. Open an item to view details by selecting the item's picture or name.
For desired items, select the required size from the available Size drop down. Note: Some items, in larger sizes, have an additional charge; these charges will be listed. Sample sizes for all items are available in the school office. Please order carefully as there are no refunds.
Enter your desired quantity in the Quantity field
Add desired item(s) to your shopping cart by selecting the red Add to Cart button. Repeat for all desired items.
Once all items are in your shopping cart, select the red Proceed to Checkout button from the shopping cart.
Complete the "One Page Checkout" page.
Enter your billing information
Select the Same as Billing checkbox above the shipping information. Note: All St. Charles Spirit Wear orders will be delivered free of charge to St. Charles. The items will be organized by family and sent home with students. Shipping information is not necessary.
Select Fridley Pickup under "Shipping Method". Note: Because all items will be delivered to St. Charles, please select this option so no shipping charges are incurred.
Complete the payment information using PayPal, credit card or money order.
Review order to confirm accuracy.
Select the red Check out button once everything is complete.
The online store will be open select times throughout the school year. All items will be delivered to St. Charles. If you have any questions, contact Kari Domeyer at karidomeyer@gmail.com or Mary Urdahl at urdahl.mary@gmail.com.