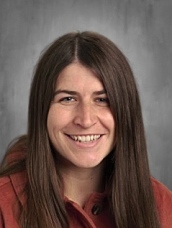 Fourth Grade Teacher
What do you love most about your work at St. Charles?
There are so many things that I love about working at St. Charles, but the easiest answer is the kids. They are so happy and genuinely excited to learn. I always go home each night with a funny kid story to tell. They teach me just as much as I teach them.
How does our faith-based environment affect what you accomplish with kids?
Sharing my faith allows me to have a uniquely special relationship with the kids. Being able to shape not only a child's mind, but their soul as well is a huge responsibility that I do not take lightly. It is one thing to teach someone how to do long division, but to get to share your love for God and the faith daily is another. I love that at St. Charles we get to do things with the kids that impact our community, like organizing the Thanksgiving food drive and having a lemonade stand for charity. Teaching at a Catholic school has also given me the opportunity to grow a relationship with the students outside of school through the youth ministry program. I feel so blessed to work at a place where I can help make disciples of Jesus!
Share a bit about yourself.
I attended Saint Mary's University of Minnesota where I earned my bachelors in elementary education. After college I joined the Lasallian Volunteers Program where I spent a year teaching in Memphis, Tennessee and a year teaching in Chicago, Illinois. I love being outside and enjoy hiking, tennis, and traveling to National Parks.