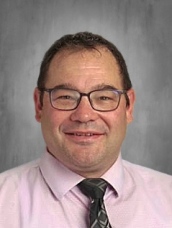 School Principal
What do you love most about your work at St. Charles?
At St. Charles School, I have the privilege to work with a staff that seizes the opportunity to make a difference for our children every day. Our motto of "Faith and Knowledge for Life" is delivered through a strong partnership between our staff and parents. The Good News that Christ brought to our world is alive at St. Charles, and it is the foundation for success in educating our children.
How does our faith-based environment affect what you accomplish with kids?
Our Catholic values are at the core of who we are, and they guide all of my interactions with students, parents, and staff members. We start with an understanding that we are here to live the Gospel and serve God in all that we do. This provides an environment that is safe, inspiring, and optimal for learning to take place. Our faith provides an environment with endless learning possibilities for our students.
Share a bit about yourself.
I grew up in the Midway area of St. Paul and attended St. Mark's grade school before moving on to St. Agnes High School. I headed off to Jamestown, North Dakota, for my undergraduate work, earning degrees in Elementary Education and Criminal Justice. I've had teaching experiences in Australia, England, Uganda, and back at St. Mark's, where my academic career began. I attended St. Mary's University in the Twin Cities for my Masters and Administrative License program. Along the way, I married the woman of my dreams, and we have three beautiful children. St. Mark's is our home parish. We live in Eagan, and my hobbies are being a father and a Catholic school principal.