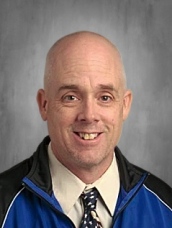 Middle School Teacher (Physical Education and Computer) and Co-Athletic Director
What do you love most about your work at St. Charles?
I love the sense of community and teamwork at St. Charles. Parents, teachers, and administrators all want what is best for our students and are willing to work together to accomplish this goal. It's hard to narrow it down to one thing I love most because St. Charles has become part of who I am. As our former pastor, Fr. Kittock, used to say to us, "Working at St. Charles is not a job, it's a vocation, a special call from God to help our young people get to heaven." I truly believe, as a staff, this is what we do.
How does our faith-based environment affect what you accomplish with kids?
Without a doubt, this is the single, greatest tool we have in educating our youth. The faith permeates every area of what we do. From the classrooms, to the hallways, to the athletic competitions, we are able to use the faith to help our students understand the world around them, and more importantly develop a relationship with the One who put them in that world.
Share a bit about yourself.
I have been a teacher and coach at St. Charles for more than 20 years. I have five beautiful children, four of whom graduated from St. Charles and one of whom is still here. Outside of school, I enjoy spending time with my wife and kids, working on home-improvement projects, and playing outdoors.