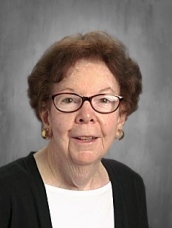 Special Services Coordinator
What do you love most about your work at St. Charles?
I love coming to work at St. Charles each day, where there is a strong sense of community that is welcoming, caring, and committed to growing in faith and knowledge. Parents trust us to guide their children through the learning process.
How does our faith-based environment affect what you accomplish with kids?
Our faith-based environment gives us the opportunity to teach the whole child, by respecting the dignity and value of each person, sharing our faith, understanding we are created in the image of God and learning to act as an image of God.
Share a bit about yourself.
I attended Catholic schools for my formal education. The experience enriched my life and helped me form a deeper relationship with Christ. I began teaching in the primary grades and provided remedial reading and math instruction. My responsibilities include Administrative and Elementary Coordinator, Special Services, and Administrative Team Member.
As Special Services Coordinator, I manage the CCC Lab program, providing individualized computer assisted instruction in reading, math, and spelling for skill reinforcement and enrichment opportunities. Special education services for nonpublic students are available onsite through the St. Anthony/New Brighton School District 282. My role is to work with teachers and parents to identify concerns, provide interventions, monitor progress, and recommend evaluation as needed. Students must meet eligibility criteria to qualify for service.