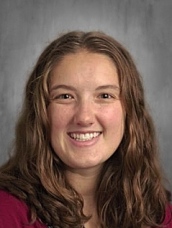 Second Grade Teacher
What do you love most about your work at St. Charles?
I love working at this school for so many wonderful reasons. St. Charles is filled with amazing people. The supportive and Christ-filled faculty and staff make a great job even better. The students are so full of joy, love, and eagerness to learn. This wonderful community makes coming to work everyday not feel like work.
How does our faith-based environment affect what you accomplish with kids?
Having our faith be at the center of everything we accomplish and work toward in the classroom gives students (and me) the opportunity to give everything back to the one who loves us the most. In moments of difficulty or joy it is always comforting to turn to why we are all here.
Share a bit about yourself.
I grew up attending St. Charles Catholic School myself. It is such a blessing to be teaching in the school that I attended. St. Charles has always been a place that is near and dear to my heart. Last spring I graduated from the University of St. Thomas where I doubled majored in Elementary Education and Catholic Studies. Along with being a teacher, I am also a hockey coach. In my free time I enjoy hiking, spending time with my family and friends, and being outdoors any chance I can get.