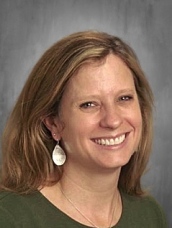 4th Grade Teacher
What do you love most about your work at St. Charles?
St. Charles is a community, a place to belong. I love that I was a student at this school, I've taught at this school, and now our kids are students here. I have taught the children of my childhood teachers, and now they are teaching my children! Many people see and understand the beauty of this community, and they come and stay. St. Charles is a safe community in which to soak in the love of God and, in turn, bring that love to the outside world.
How does our faith-based environment affect what you accomplish with kids?
Guiding children is one of the most important aspects of my life. When I am able to coach or teach with faith, it brings a deepness in my connection to the students that seems otherwise impossible. Teaching children that they are images of God (and their classmates are, too), starting the day with prayer, attending Mass together and celebrating the holidays with Jesus at the center—all of this reminds me constantly of our ultimate goal. I want to become the best-version-of-myself, and I want that for our students. Helping kids get to Heaven is more important than helping them get to Harvard.
Share a bit about yourself.
I have three children who attend St. Charles; Maria, Jake and Luca. We love playing and coaching soccer, hockey, and basketball. We also love camping in our camper! We attend a small Catholic church in Northeast Minneapolis. The parish includes mainly families of Italian heritage as well as the deaf community. I have learned American Sign Language (ASL) at our church and love being able to better understand the deaf culture. I love sharing ASL with my students, too!
I first began teaching at St. Charles from 2000 through 2004 as a kindergarten teacher. Then I spent 10 years staying home with our kids, and am blessed to once again be teaching at St. Charles.