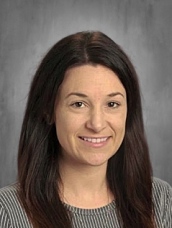 Third Grade Teacher
What do you love most about your work at St. Charles?
The kids! I love the joyful energy of the classroom each day and spending time with the students as they learn, pray and grow. The caring community at St. Charles makes it a great place to be, and I am grateful to work with such faithful and caring families and staff.
How does our faith-based environment affect what you accomplish with kids?
At St. Charles we instill in each child that they are images of God, therefore they have dignity and are worthy of respect. We also reinforce that all people are images of God and should also be treated as such. This is such a positive basis to reassure children just how loved and treasured they are and gives them a sense of their great worth that they can carry with them in years to come. It is also a great basis for children to reflect on how to live their lives and treat others. Creating this positive and truth-based culture in the classroom makes a big impact on the daily climate of the class.
Share a bit about yourself.
I grew up in Eagan, MN, then moved briefly to Wisconsin to obtain my degree in elementary education. After that I moved back to the Twin Cities to teach. I have taught various preschool and elementary levels at Catholic schools in the Twin Cities area and am delighted to be here at St. Charles. Outside of school I enjoy spending time outdoors and with family and friends, and I love to read!