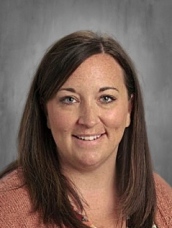 Preschool Teacher
What do you love most about your work at St. Charles?
The most rewarding part of working at St. Charles and specifically in the Preschool room is getting to know each individual child and working with their incredible families. Each child is a true gift from God and their laughter, curiosity, endless questions, energy, and excitement to learn, explore, and play is contagious and makes me love my job more every day. I love that no two days are the same and I am amazed at what each child brings to the classroom and the things they teach me! I am also blessed to work alongside such a supportive, faithful, caring, committed staff.
How does our faith-based environment affect what you accomplish with kids?
At St. Charles, God is present in everything we do. I love how we, as a school and community, can speak openly about our beliefs and share them with our students, helping them grow into strong faithful individuals. It truly brings us closer as a school and community, makes us stronger as individuals, and allows us to know one another on a deeper level, better able to help and support one another. The faith of our littlest students in PreSchool is a great daily reminder for me of the love God has for us and the comfort and support prayer can bring to our lives. There is no better way than to start the day with God and we get to do it with one another every day.
Share a bit about yourself.
I've been an Preschool Aide and Teacher at St. Charles since 2000. I am a former St. Charles Charger graduate and a parishioner of St. Charles Church. I am a proud mom and now get to watch my son attend this incredible school – and have some of the same great teachers that I had as well! I graduated from the University of St. Thomas where I received a B.A. in Psychology. In our free time, my son and I love to hike, swim, go on adventures, spend the summers at the cabin, run a random 5k, spend time with our family, and play baseball (I love being a "baseball Mom").