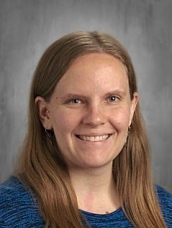 Middle School Science Teacher
What do you love most about your work at St. Charles?
I feel so blessed to work with such supportive and positive people at St. Charles. I am happy to call St. Charles my spiritual home as well as my work home. This school is committed to forming the whole child and has a mission that guides my work in the classroom.
How does our faith-based environment affect what you accomplish with kids?
I have always had a passion for the interplay between faith and reason, and I seek to bring that into the science classes I teach. I love learning about God's creation and sharing this with the students. I often get asked how I can teach science in a Catholic school and my response is "I can't imagine it any other way." The Catholic faith teaches us to seek the truth and by learning about the natural world, we learn about the Creator. St. Charles fosters this natural curiosity for both the faith and academic subjects.
Share a bit about yourself.
I grew up attending St. Charles Church; this is where I was Baptized and received my first Holy Communion. I am happy to be back as a parishioner. I attended the College of St. Benedict where I earned a degree in biology and a minor in secondary education. Except for a brief time in a public high school, I have taught in various capacities in Catholic grade schools since 2012. Besides teaching, I enjoy knitting, crocheting, card making, running and reading.