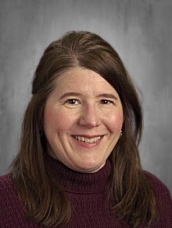 Second Grade Teacher
What do you love most about your work at St. Charles?
St. Charles is a wonderful place filled with great people. The staff is dedicated, kind, and supportive. The children are happy and like coming to school. I just love spending my days with kids and watching them grow and learn. I look forward to coming to work each day!
How does our faith-based environment affect what you accomplish with kids?
Being able to intertwine our Catholic faith into everything we do is what makes our school exceptional. Our students are lifted up by the never-ending love of Jesus Christ and their faith helps them persevere through the difficulties of schoolwork and life. Because we are all images of God, we hold ourselves to a higher standard. Knowing that we will be rewarded in heaven for using our God-given talents and helping others makes our efforts worthwhile.
Share a bit about yourself.
Over the years, I have taught first through fifth grade, all in Catholic schools. Having grown up on a dairy farm in central Minnesota, I am a country girl at heart. My husband and I have two daughters who are in high school and college. In my spare time I enjoy reading, gardening, and being with family and friends.