Growing in Faith and Knowledge for Life
Founded in 1939, St. Charles is a Catholic school located in St. Anthony Village
serving families and children in Preschool through 8th grade.
Today At St. Charles
School Mass no music (Gr K-8)

8:00 am-8:40 am
Our Promise
Faith and Knowledge for Life is our promise at St. Charles Borromeo School. If you're interested in a school that stands on these pillars, St. Charles would like to welcome you for a visit. We are a Catholic school serving families with children in Preschool through 8th grade. St. Charles parents and staff partner to lift our children to reach personal and academic excellence.
"Not only do St. Charles students have a reputation as high academic achievers, but they also are known for being truly good kids — respectful, considerate, kind and compassionate. As a parent, I see this every day. I'm comforted and proud to know my child is in an environment where she's nurtured, challenged and experiences the love of Christ through her teachers, classmates and broader St. Charles parish community…"
– Jessica T., St. Charles Parent
Academics
The rigorous academic program of St. Charles School lays a solid foundation for our students to build upon. We have high expectations of our students and our dedicated teaching staff create a nurturing environment that supports learning and fosters academic excellence.
St. Charles Preschool Programs
GROWTH. VIRTUE. CREATIVITY.
Our Preschool Program provides a fun, caring and educational environment for your 3-5 year old child. Children learn and grow in a Catholic values-centered community that fosters emotional and academic growth, nurtures virtue, and inspires creativity.
Schedule A Tour
We want to meet you and your incoming student! We are now enrolling for the 2023-24 school year and would love to talk with you about our Preschool-8th grade experience here at St. Charles School. Contact us to schedule a personal tour, to view a virtual tour, or just to have a conversation about sending your child to St. Charles School.
Principal Danny Kieffer
612-781-2643
dkieffer@stchbs.org
Read the Weekly Update 4 - September 27, 2023 for the latest news on what's happening at St. Charles School. Submissions: To submit an article for the Weekly Update, please send your submission by Tuesday at 2 pm to the school office at stchbschool@gmail.com.
read more
"We consistently find St. Charles graduates to be well-rounded individuals who actively embrace student life and who are prepared for the academic challenge and Catholic-based curriculum we provide."
– Joe Olson
Director of Admission, St. Agnes High School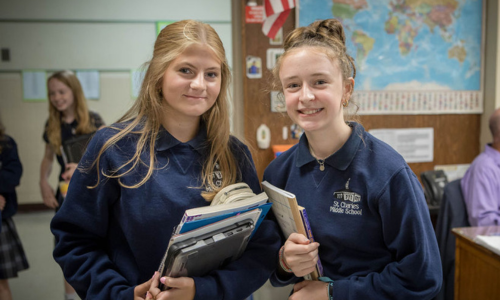 St. Charles needs your help!
The St. Charles Annual Fund is an opportunity for you to invest in the future of St. Charles School. Your donation is a gift of Faith and Knowledge for Life! You can help support our school through the Annual Fund, which helps maintain and continually redefine excellence while keeping tuition manageable for our current and future families. Thank you for your support!

Committed to Excellence.

Serving our local and global community.

Striving for Personal and Academic Excellence.

Recalling Our Image in God's creation.

Working in partnership with parents.