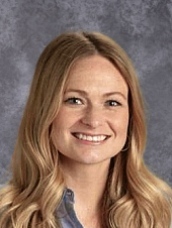 PreK Teacher
What do you love most about your work at St. Charles?
I love the strong sense of community at St. Charles. Being new to the school this year, I was happy to find that all of the teachers, staff and families work together for the benefit of each and every child. Many families and parents attended this school, which is a true testament of how St. Charles makes a lifelong impression on each student! I am so happy to be teaching Pre-K and I feel very blessed to be a new part of the community!
How does our faith-based environment affect what you accomplish with kids?
The faith-based environment at St. Charles allows for the students in our class to share their love for Jesus and others every day! We teach our class about the Fruits of the Spirit and encourage our students to show them with their classmates. The children also learn how they have God-given talents and abilities and that He made the wonderful world around us!
Share a bit about yourself.
I grew up in Eden Prairie, MN and went to Holy Family Catholic High School. I moved to Atlanta, Georgia and attended the University of Alabama for college. I taught Kindergarten at a Christian school in Atlanta for five years and recently moved back to the Minneapolis area. I am happy to be back in the great state of Minnesota and am looking forward to teaching at St. Charles!