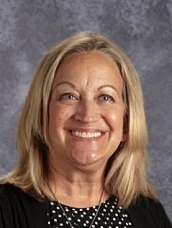 Middle School Teacher (English/Language Arts)
What do you love most about St. Charles?
I work with an incredible, supportive staff. The students challenge me, are a joy to teach, and make me smile. I especially love it when a student discovers the joy of reading.
How does our faith-based environment affect what you accomplish with the kids?
I feel I have the freedom to incorporate our beliefs into the subject matter without being afraid of offending anyone. It makes it easier to relate topics to our everyday life and values.
Share a bit about yourself.
I graduated with my undergraduate degree from the University of Minnesota. I earned my MA at St. Mary's University and my Reading Certificate at St. Thomas University. I am married and have two adult boys. I enjoy traveling, reading, and spending time with friends, family, and pets. I have been teaching for 33 years and have taught at St. Charles for 30 years.
In addition to teaching at St. Charles, I assist with the Aftercare Program, perform lunch and recess duties, and coordinate our Accelerated Reader program.