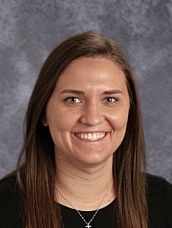 3rd Grade Teacher
What do you love most about your work at St. Charles?
From the first moment I walked into this school, I knew it was the place God meant for me to be. The staff, students, and families have been incredibly welcoming from the start. The environment of the school is filled with a love of God and for learning.
How does our faith-based environment affect what you accomplish with kids?
My PreK through 12th grade Catholic education has been such an instrumental part of my life. It has lead me to where I am today. For that I am forever grateful. I understand how important it is to have God as the center of education. That is why teaching at a Catholic school feels like home to me and why I am excited to be part of the St. Charles community.
Share a bit about yourself.
I grew up in Prior Lake, MN where I attended St. Michael's PreK through 8th grade school. I continued my Catholic education at Holy Family Catholic high school. I attended Augustana University in Sioux Falls for college receiving my B.A. in elementary education and special education. I taught at a Catholic school in Sioux Falls for one year before starting at St. Charles. Last year I helped coach soccer for the junior varsity and varsity girls' soccer team. I was also assisting in coaching a team for Girls on the Run. This year, I am enjoying coaching volleyball here at St. Charles. In my free time I enjoy spending time with my family and friends.