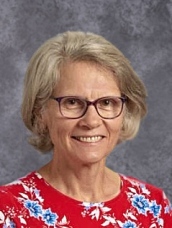 Pre-K and Middle School Teacher
What do you love most about your work at St. Charles?
The entire staff at St. Charles is one big family. They truly are supportive to fellow teachers and staff and they are a fun group of people to be with throughout the day. The school's students, parents and families are wonderful people. The interest and support of the parents is reflected in the attitude and energy of the students – the heart of the school! It truly is an honor to be a teacher here at St. Charles Borromeo School.
How does our faith-based environment affect what you accomplish with kids?
The faith-based environment at St. Charles School makes it very rewarding to teach here. It is comforting to know that our Catholic beliefs are the very core of all that we teach and how we choose to live and interact with each other.
Share a bit about yourself.
I started teaching at St. Charles in 1981. I taught for three years, then took a break to stay home with my children. I came back to St. Charles and began teaching the Pre-K in 2005. My BA degree is from the University of Wisconsin, River Falls in Elementary and Early Childhood Education.